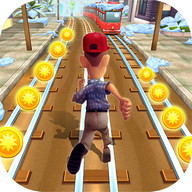 Run Forrest Run! - The endless running game!
Opis
Run Forrest Run! - The endless running game! Android Game
Biegaj, skacz, zbieraj monety i lataj! Pośpiesz się i pobierz tę działającą grę!
Run Forrest Run! - Endless Run is the best running game for all the family! Ready to have fun?
Download this arcade runner game now and run, do not stop, just run and dodge the different obstacles that stand in your way.
Welcome to Run Forrest Run! - Endless Run, the official runner game of Forrest Gump!
Run like a runner! Jump like a monkey! Collect coins like a banker! And fly like a bird!
Be careful with the cars, trucks, bumps, rocks, trees and other obstacles that you have to overcome on the way.
Go through football Stadium and dodge the players. Run as fast as a dog runs behind a sausage and catch the bubba gump prawns!
Delve into dangerous forests of Vietnam... War zone! Take care and dodge enemy bombs and bullets!
Join this addictive adventure and dash as fast as you can, overcome the levels and unlock new scenarios and characters.
You will never get bored again, it doesn't matter if you're on the bus, on the train or in the subway. Thanks to you do not need internet to play, you can run with Forrest anywhere, at any time. Say bye to boredom!
This is the best adventure run game… Definitely!
GAME FEATURES:
-Amazing runner game!
Welcome to the new action game at top speed, are you addicted to run, jump and dodge? You will need a real old school reflexes to overcome the challenge!
Have fun with this wild race, the best run and jump game, uniquely blends the genres of arcade and action games.
-Easy to play!
Simple and intuitive control system, all the acrobatics moves with one finger.
Swipe up on your screen to make a jump and escape from obstacles, press down your finger to slide under hurdles.
Dash left or right to turn your runner. Can you dodge all cars and enemies?
Activate the hang glider and fly over the blocks while collect coins in the air in this endless runner.
-Missions reward system!
Complete three missions and level up your multiplicator rating, each mission is unique.
Unlock amazing scenarios to play 'Run Forrest Run' with colorful and fantastic graphics like Alabama, Route 66, Football Stadium or dangerous forests of Vietnam, all of them recreate scenes from the beloved.
Welcome to a new 3D running game!
-Challenge and beat your friends!
Synchronize with your Facebook and Google Play accounts, compete with your friends, beat them and reach the top of the ranking. Enter in the competitive mode and run past your high scores in the game and become the top runner. Show them who is the best in this infinite running games.
-Upgrade and customize!
There are a lot of skins and helmets to customize your character. What do you prefer? A rugby helmet or a rocket helmet? Each item have special powers like slow down time, jump more distance, multiply your points or survive one/two impacts with a obstacle. Non stop action in this never ending jumping game!
Very easy to play and totally free, with its simple and intuitive interface, run and dodge with only one finger! You'll love this challenge running action game at full speed!
Do you like the cartoon graphics? Check out the official game video. There are thousands of surprises waiting for you in this third person runner game:
https://www.youtube.com/watch?v=fWquL-NZrq8
Start this entertainment jumping game, you won't stop running, jumping and dodging! Free download 'Run Forrest Run' and start this wild race now!
Get all scenarios!
Visit us and and enjoy our free games:
www.generagames.com
Don't miss our news and releases! Follow us on facebook, twitter and instagram:
https://www.facebook.com/Run-Forrest-Run-2023800101232100/
https://twitter.com/RunForrestRunTG
https://www.instagram.com/runforrestrunthegame/
Thanks, have fun, and remember: "life is a box of chocolates you never know what you are gonna get"
Enjoy the game ;)
Info
Info
Oceny i ocena

Recenzje

(1)
Podsumowanie przeglądu
100%*
Prześlij swoją recenzję
Rejestr Zarejestruj konto PHONEKY, aby publikować recenzje z Twoim imieniem i nazwiskiem, przesyłać i przechowywać ulubione aplikacje mobilne, gry, dzwonki i ulubione. tapety.
Zarejestruj się lub Zaloguj się na PHONEKY


hasenmohamed
Od: Iraq
Wiek: 20
Płeć:Mężczyzna
Telefon / przeglądarka: Mozilla
Może ci się spodobać również:
Usługa gier na Androida jest dostarczana przez firmę PHONEKY i jest w 100% darmowa!
Gry można pobrać przez telefony Samsung, Huawei, Oppo, Vivo, LG, Xiaomi, Lenovo, ZTE i inne telefony z systemem Android OS.